ANZHFR 2022 Golden Hip Awards
The Golden Hip award was initiated by the Scottish Hip Fracture Audit to promote and reward better health care for people with hip fractures.
This year, the best performing and most improved hospitals in Australia and New Zealand have been recognised for their achievements against the Hip Fracture Care Clinical Care Standard quality indicators.
The New Zealand Golden Hip Awards were held as part of the NZHFR Hip Fest on 7 Sept in Wellington. North Shore Hospital won the Golden Hip award for best performing hospital for the second year running. Hutt Hospital won the Golden Hip award for most improved. The award ceremony can be viewed here
The Australian Golden Hip Awards were announced at the Binational Hip Fest on 19 October in Melbourne. Sunshine Coast University Hospital won the Golden Hip award for best performing hospital. The Sutherland Hospital won the Golden Hip for most improved.
Thank you to Dr Annette Holian (President, Australian Orthopaedic Association) and Dr Alice Bhasale (Director, Clinical Care Standards, ACSQHC) for presenting the awards!
The ANZHFR congratulates the winners and all finalists on their achievements providing high-quality hip fracture care.
Australian Finalists: Best Performing Hospital
Sunshine Coast University Hospital, QLD (Winner)
Albany Hospital, WA
Concord Repatriation General Hospital, NSW
Fiona Stanley Hospital, WA
Prince of Wales Hospital, NSW
Princess Alexandra Hospital, QLD
Robina Hospital, QLD
Royal Melbourne Hospital, VIC
Royal North Shore Hospital, NSW
Townsville University Hospital, QLD
Australian Finalists: Most Improved Hospital
The Sutherland Hospital, NSW (Winner)
The Northern Hospital, VIC
Westmead Hospital, NSW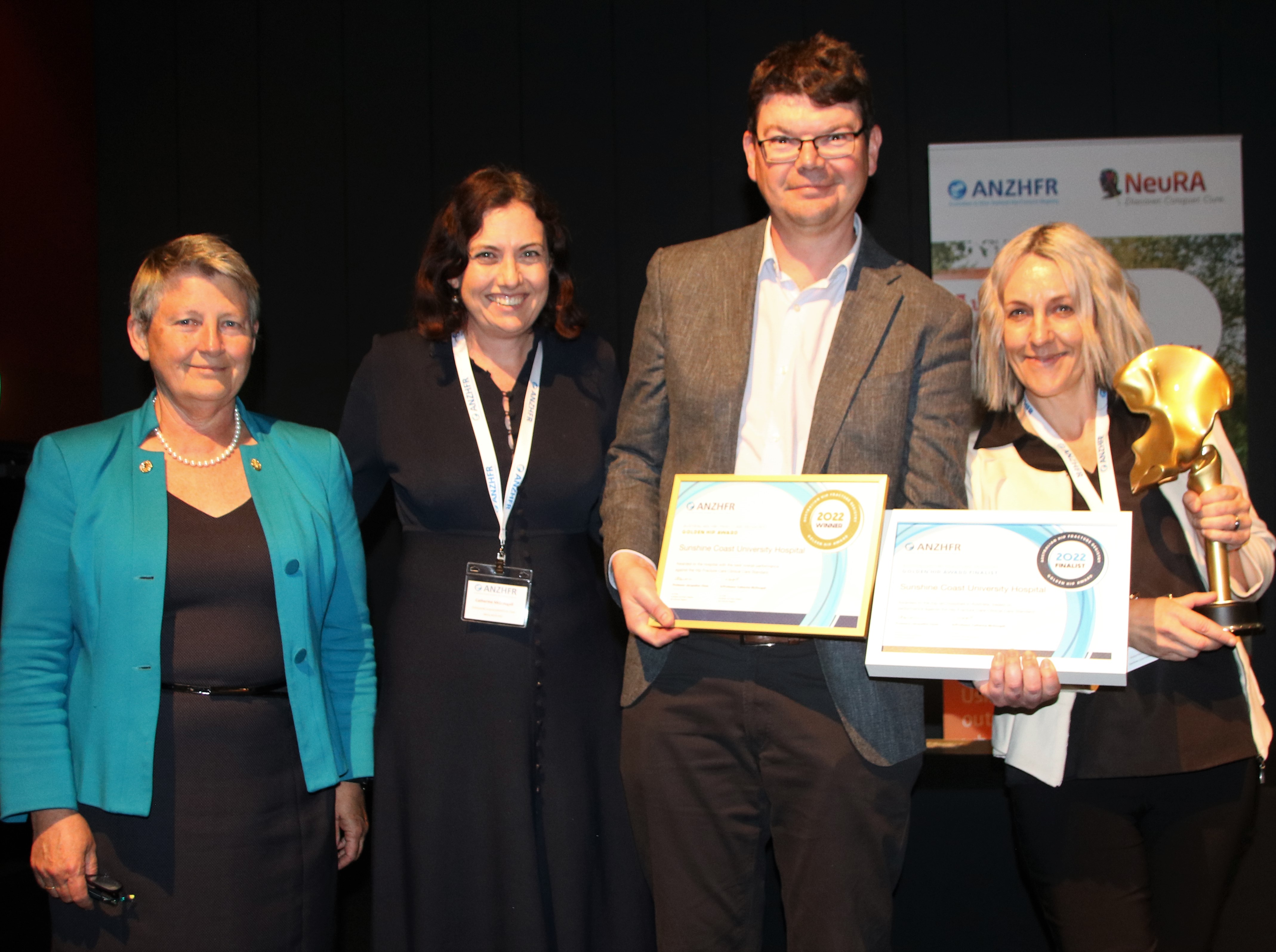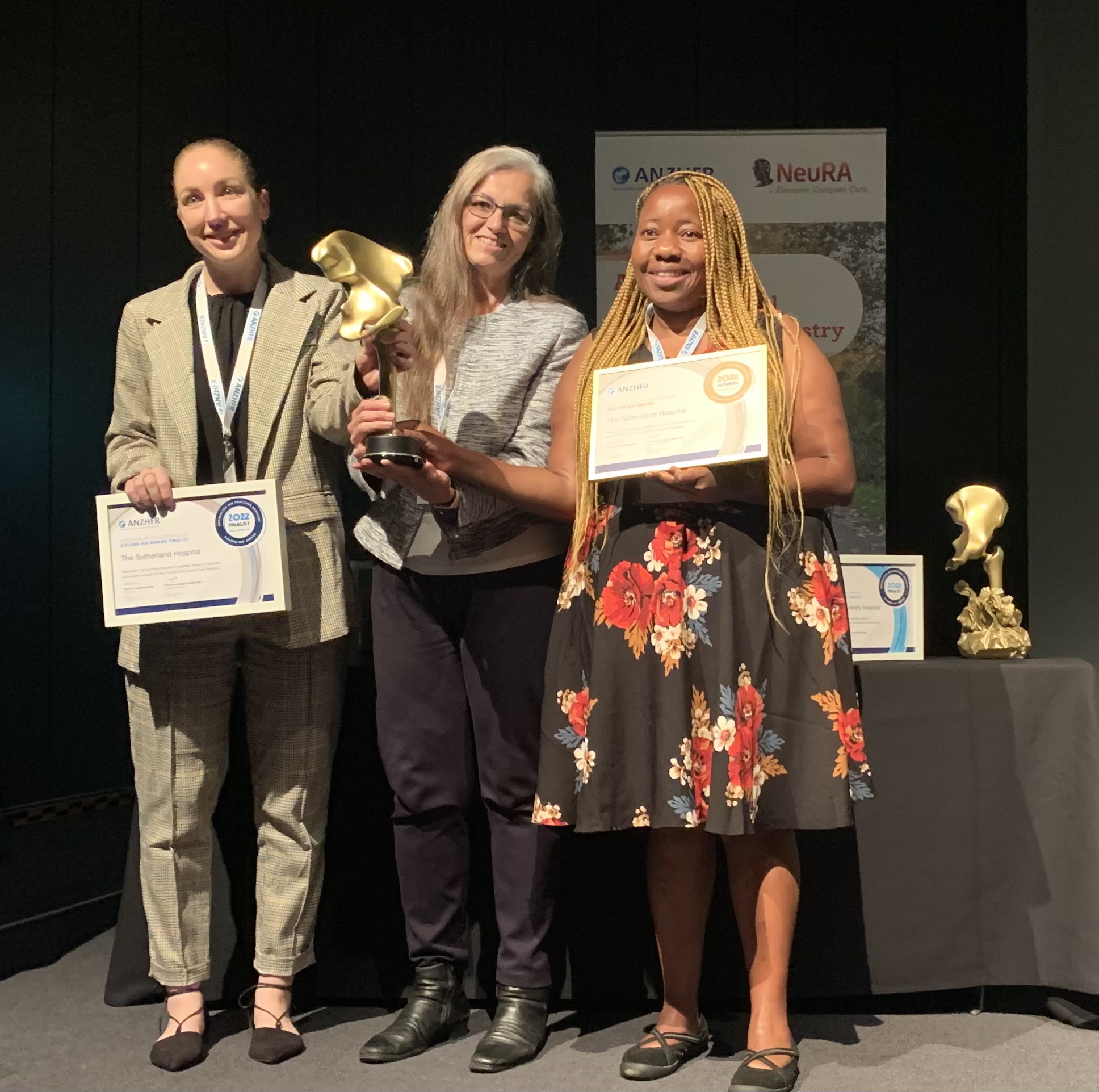 New Zealand Finalists: Top Performing Hospital
North Shore Hospital (Winner)
Palmerston North Hospital
Middlemore Hospital
Tauranga Hospital
Waikato Hospital
New Zealand Finalists: Most Improved Hospital
Hutt Hospital (Winner)
Southland Hospital
Tauranga Hospital
The ANZHFR podcast Hipcast shares regular episodes with the aim of improving hip fracture care. With a range of multidisciplinary guests on the show, all aspects of individualised and optimised hip fracture care are explored. Make sure you subscribe to stay up to date on latest best practice.
Hipcast's Hip Tips
A series of top tips from experts in hip fracture care across each specialty of health professionals involved in the patient's journey.
Find our quarterly newsletters linked below. If you wish to receive these to your inbox, make sure to subscribe at the bottom of this page.
Click here to see all videos available via the ANZHFR Youtube Channel.
Be sure to follow us on Twitter to stay in the loop about the latest news in hip fracture care.
Please find the recent Hipfest presentation recordings on our Youtube channel playlist here
Please find the recent Hipfest presentation recordings on our Youtube channel playlist here
Please find the 2020 Hipfest presentation recordings on our Youtube channel playlist here