Hospitals in Australia and New Zealand that provide surgical treatment to patients admitted with a fracture of the proximal femur are eligible to contribute data to the ANZHFR. The overarching goal of the ANZFHR is to have all eligible public hospitals contributing patient level data, thereby increasing the proportion of eligible patients that are captured by the Registry. High levels of capture allow the findings to be generalised to the whole population. Hospitals need to be approved by the Lead Human Research Ethics Committee in their state or territory and require a site Research Governance authorisation before being able to contribute data to the registry. If you are interested in contributing patient-level data to the Registry, please email us or phone 02 9399 1132.
The ANZHFR is made up of the Australian Hip Fracture Registry and the New Zealand Hip Fracture Registry. The ANZHFR operates as part of Neuroscience Research Australia (NeuRA) with affiliation to the University of New South Wales. In New Zealand, NeuRA holds legal and ethical responsibility for the functioning of the registry. Clinical oversight and registry support is provided to the each management committee by a multidisciplinary ANZHFR Steering Group. There are two ANZHFR subcommittees, each of which are headed by clinical specialists whose insight and expertise has enabled the registry to establish itself as a credible and effective driver of healthcare quality improvements. Further details on each element of the ANZHFR's organisational structure can be found below.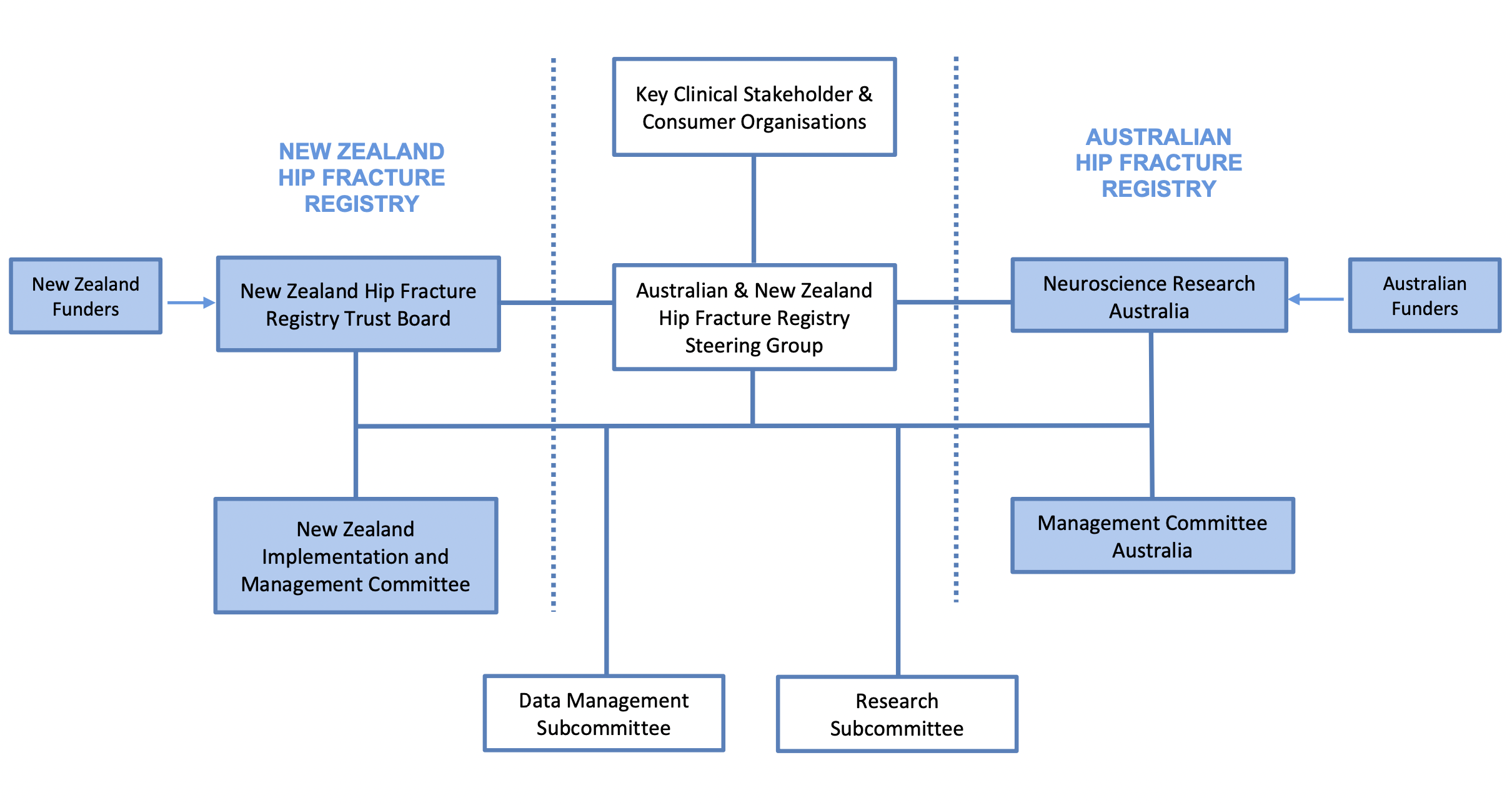 The Data Management Committee
Data Management Sub-Committee oversees the management of, and access to, registry data on behalf of the ANZHFR Steering Group. The Sub-Committee provides advice and recommendations to the ANZHFR Steering Group to ensure the ANZHFR data is held and used to enable the registry to achieve its objectives. The DMC also provides advice and makes recommendations to the Steering Group on the ANZHFR Minimum Data Set and its interpretation.
Research Sub-Committee
The ANZHFR Research Sub-Committee identifies opportunities for improving specific aspects of hip fracture care through the use of Registry data to answer research questions. For more information on data access and ANZHFR Research projects.
The Registry Manager is the contact person for both subcommitees, please email or phone 02 9399 1132.