Welcome to the My Hip, My Voice Projects Page
Have you had the experience of a hip fracture - as a patient, family member, carer, or advocate and member of a consumer organisation? We need your help!
The ANZHFR is designing new reports specifically for people like you and we would really appreciate your help with this work.
There are two parts to the My Hip, My Voice project and this link will take you to more information about the overall project. The two parts are tailored reporting and patient experience measures. Please scroll further down the page for how to be involved and for more information.
What does involvement in the My Hip, My Voice project look like?
If you were aged 50 or over when you had your hip fracture, or you were an adult carer, relative or advocate, we will ask you to participate in one (or all) of the following activities. They will be run by the My Hip, My Voice project team:
A workshop or focus group (your choice of face-to-face or online)
An interview (your choice of face-to-face, telephone or online)
A survey (your choice of online or telephone)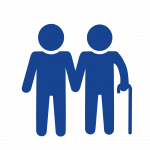 Tailored Reporting Project
We know there are barriers to patients and relatives using healthcare information. Some of these barriers are about finding the right information, or understanding it because it is written in 'medical jargon'.
This project wants to reduce the barriers to people accessing and using information compiled by the ANZHFR on hip fracture care and outcomes. We want to create a new report that makes the information available and accessible to all people who have broken their hip, or to people who might break their hip in the future.
Your involvement will help us to answer the following questions to make sure the new report provides the information people need, at the time they need it, and in a format that is easy to access and understand.
What hip fracture information should a consumer report include?
How would you prefer to receive hip fracture information? Some options are a written booklet, in a video or a sound recording.
Where should the ANZHFR make the report available? Some options include the ANZHFR website, a mobile phone app, pamphlet/booklet in hospital or from your GP.
What would have been useful to know about a broken hip and wasn't available to you when needed? Some options include who will be involved in my care, what can be done to prevent another fracture…
What is not currently reported by the ANZHFR that you think is important? You can use the links below to see how the ANZHFR currentlyreports the information it collects:
Take a look around this website and click on the headings at the top of this page to learn more about the ANZHFR
Follow us on social media or check out our recent newsletters here
You can also tune in to the ANZHFR's Podcast Hipcast with many episodes available on optimising hip fracture care.
Patient Experience Measures
Angela broke her hip and had what might be described as a routine experience. She was admitted through the Emergency Department and had surgery the next day. After her operation, a physiotherapist helped her walk and she was discharged home. Although Angela's care was standard, and many of the protocols in place helped ensure she received timely care, the clinicians looking after her weren't sure what her perception of the care provided was.
Provided by patients, patient-reported measures collect information about the perception and experience of care and its outcomes. Patient-reported measures can be used to assess health performance and to inform future improvements in the quality of services. Patient Reported Experience Measures (PREMs) are used to obtain patient views on aspects of the health care they have received.
Examples of PREMs questions are:
Did you receive sufficient information about tests and examinations?
Overall, was the treatment and care you received in the hospital satisfactory?
Did health professionals listen carefully?
Did health professionals show respect?
Did health professionals spend enough time with the you?
The My Hip, My Voice project wants your input on how (and when) to capture a person's experience of their hip fracture care.
We recognise and acknowledge people with a lived experience of hip fracture - patients, their families, and carers.
Their voices are powerful. Their contribution is vital to the work of improving health care.